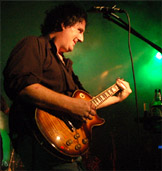 I originally had no intentions of joining a tuition-based guitar instructional site. However, one day I was poking around on YouTube, and I remember being blown-away by a guitarist named Rick Graham. After doing a little cross-referencing, I found out that Rick taught at Infinite Guitar. Once I checked out the IG site, I was very impressed by the diversity of topics, the teaching and performing quality of the instructors, and the overall look and feel of the website itself. What I did not know until I became a premium member was that:
- The IG staff instructors are accessible, friendly, and helpful.
- The fellow IG members are supportive and respectful of each other.
- The entire IG community (staff, members) makes you feel welcome.
- The IG forums are a great way to express yourself and network.
As an advancing guitarist, becoming an Infinite Guitar Member has proven to be a fun and invaluable learning experience for me!
Bill Meehan
United States