Music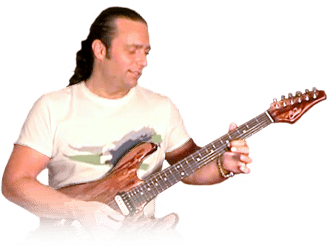 About
Rick Graham is a guitarist/musician who lives and breathes music. Throughout the 16 years that he has been playing, he has absorbed music from one end of the spectrum to the other and has carefully woven those elements into his own playing.
Rick will be teaching rock, funk, blues, fusion, metal, classical/fingerstyle and will cover all aspects of technique, musicianship and theory within them.
2005 saw the release of his EP 'Re-Invention' which was co-written and co-produced by Lee Graham.
Some comments on Rick's work:
Greg Howe - "Superb Phrasing (Clever use of motifs). Great Tone (round yet focused). Vibrato is very musical and relaxed. Impressive two handed chops."
Vince DiCola (on Rick's cover version of Training Montage) - "Very Good! This is actually one of the best and most faithful covers of my work I have ever come across. The guitar playing the melody sounds very fitting and your expression is very tasteful. The playing of the keyboards are impressive as well."
Andy Mckee - "I reckon Vince DiCola would be proud of your Training Montage arrangement! Great playing Rick! Keep on rocking it out."
Marco Sfogli (guitarist with James LaBrie) - "Rick, you rock!!!"
Richard Niczyperowicz - "I really enjoyed the work on this disc, the song writing is very good and the production is nice and clear. I see a lot of 80's influences in this one, lots of keyboard/guitar combinations make a great effect, I can definitely tell the Vince DiCola track was a big influence too. Overall a great disc."
"I hope that you get the best out of everything here at Infinite Guitar and above all, HAVE FUN!"
Rick's Lessons